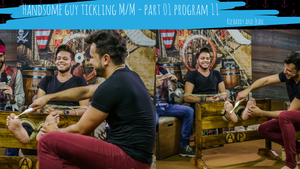 capitão
Handsome guy tickling M/M - Program 11 part 01 - Richardy and Jean
Regular price
R$ 14,90
R$ 0,00
Added on January 10, 2019Richardy is a model who decided to participate in the program, he is delicate and has his feet tortured by his opponent (Jean).
Format:
mp4 file (Full HD 1920x1080)
Size:
345 MiB
Duration:
4 min.
Included:
male tickling, male tickle torture, male feet tickle, male feet, Jean, handsome guys, Richardy, tickling M/M.
see more of collection:
https://andandonaprancha.com/collections/tickling-guys-challenge
DISCOUNT COUPON
20% off entire order / Minimum purchase of 3 items / Discount code (type this in the checkout): 64CSX5TSXP9Y
---
More from this collection